Back To Blog
There is nothing more annoying that trying to lock or unlock the door and finding the key is stuck. Such problems might lock you in and out of your house and a house lockout is the last thing you want. You need quick solutions. Of course, if you want to avoid similar issues altogether, lock repair and maintenance every once in a while wouldn't hurt. Don't forget that keys are mistreated by us, obtain damage and rust, and locks freeze during low temperatures and erode over time. These are facts to keep in mind when you are faced with such problems because they give customers an idea of what actions to take in order to fix the problem.
Quick Fix and Lasting Results
Keys get stuck in locks for various reasons. The smallest dent on the cylinder could keep the key from going all the way in. On the other hand, it may be a key problem. If key change is not really required, at least make a duplicate! This is the easy solution to the problem. So, check the key first. Take a good look to see if there are any distortions, rusty sections or any damage at all. Key repair is hard and it's best to have it professionally replaced.
Fix the lock to get the key in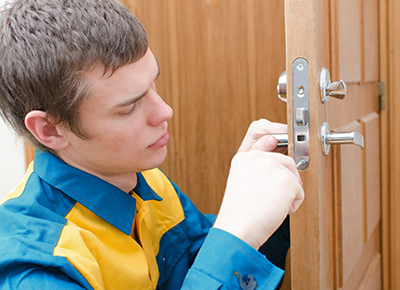 Trouble begins if the problem is centered on the lock. The quickest solution is lubrication. The truth is that door locks need some lubricants in the form of graphite or silicone from time to time so that you will avoid having similar problems. It's actually good to keep a bottle at home and if the key gets stuck, remove it gently and spray some lubricants in the lock. You must be extra careful with graphite because it can make you dirty.
The results would be best if the latch is lubricated. So, if the door is unlocked, open it and bring the latch out – the latch is found at the side part of the door and it's the part which goes inside the strike plate hole. Apply some lubricants on the latch, bring it in and out a few times for even lubricant distribution and then work the key in the lock again. Now if you can't do any of these things due to the key not coming out of the lock in the first place, use some pliers to gently work its way out. For further help, drop some lubricants at the part where the key meets the lock and see if it works.